Filter by Category
Book & Paper Arts
PAPER MARBLING
with Heather Millet

Feb 15, 2018 at 6 pm
Learn the traditional technique of marbling paper! In this 3-hour workshop, we will experiment and explore multiple patterns. Marbling is great for bookmaking, cards, or simply beautiful papers!
Supply List: Bring any paper you'd like to experiment with.
Heather Millet has been the General Manager of Plaza Artist Materials for almost 9 years. In her time there she has had the opportunity to explore many mediums, and her current passion is paper marbling. Heather recently became a member of Studio Two Three not only to have the space to pursue her favorite pastime, but to share her creative pursuits with the Richmond art community and further her own education by working alongside local artists.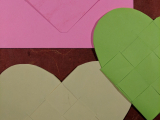 VALENTINE BOOKMAKING
with Alyssa Salomon

Feb 13, 2018 at 6 pm
We'll make books of love and woven hearts just in time to share with those you love. As an extra bonus, we'll hand make some envelopes too. All materials provided, all levels welcome. Come as you are or bring a date or two – we would love to have you!
Supply List: All levels welcome and materials provided.
Alyssa Salomon has been testing how photography and printmaking collect and remake her favorite parts of the world since receiving a camera on her 8th birthday. Alyssa teaches photography at VCU, but says she became a printmaker at Studio Two Three. She is a compulsive, albeit late rising, bird watcher, a frequent kayaker, and a head-over-heels chicken-keeper. Representation: Candela Gallery (Richmond, VA), Soho Myriad (Atlanta, Los Angeles, & London), Penland Gallery (Penland, NC).